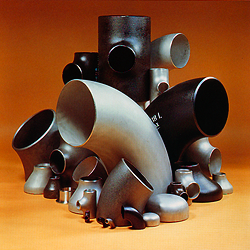 Over the past 70 years Benkan Kikoh has evolved from small-scale factory for Buttwelding Fittings to the leading manufacturer in Japan.
Benkan Kikoh has been accumulating and inheriting the technical capabilities and the reliability of manufacturing from Benkan and Sumitomo Metal Industries. In detail, NIPPON BENKAN KOGYO (former BENKAN Corporation) established in 1947 and FUSO KIKOH (former NIPPON STEEL & SUMIKIN KIKOH COMPANY, LTD) became independent from Sumitomo Metal Industries in 1957.
Our company succeeded in the domestic production of buttwelding fittings, built a factory in Ota-ku, Tokyo in 1951, and started manufacturing.
We have gradually expanded our domestic factories, current Amagasaki factory started manufacturing the buttwelding fittings in 1953, Kiryu factory (current Kiryu branch) was established in 1960, Osaka factory was established in 1965, and Yabutsuka factory (current Kiryu factory) was established in 1971.
Regarding the certification, we applied it as a trailblazer in Japan, our factories have been certifying by JIS (Japanese Industrial Standards: B 2311, B 2312, B 2313, B 2309), ISO 9001, various ship classifications (NK, DNV, LR, ABS, and BV), and EU / PED (97 / 23EC).
We also comply with Japanese laws such as the Electricity Business Act (including private sector certification), Gas Business Act, High Pressure Gas Safety Act, and Reactor Regulation Act.
We started overseas production in Thailand (currently, Thai Benkan) since 1987 and Vietnam (currently, Benkan Vietnam BV2) since 1995 with our own technology, and we have been walking as a leading company.
We can supply the fittings sizes from NPS 1/2 (DN 15) to NPS 80 (DN 2000) with various material grades such as carbon steel, low alloy steel, high alloy steel, stainless steel, 6Mo stainless steel, duplex stainless steel, nickel alloy steel, aluminum alloy steel, titanium alloy steel, and high yield steel.
Regarding various tests and inspections, we have the equipment and qualifications for necessary tests and inspections such as mechanical tests and non-destructive inspections, excluding special tests (HIC, SCC etc.) and we meet a variety of requests.
Our fittings are used in a wide range of industries from nuclear power plants, thermal power plants, geothermal power plants, refining / chemical plants, LNG / LPG plants, oil / gas pipelines, shipbuilding, paper mills, construction, pharmaceutical plants, garbage incinerators.
Benkan Kikoh's Buttwelding Fittings business will continue to sustainable development as a core industry that supports lifelines while taking on new challenges.