最近の投稿
Butt-welding Fittings Business
Butt-welding fittings are fundamental to piping, and fundamental to BENKAN KIKOH Corporation as well.
These foundational components support various infrastructures behind the scene, having an ever-important role in the past, present.
Company Name

BENKAN KIKOH Corporation(Tokyo Office)
Location

2-5-13, Sanno, Ota-Ku, Tokyo, 143-8567, JAPAN
Primary Business

Manufacturing and Selling Butt-welding Fittings and High Pressure Gas Cylinders
High integration, High performance, rapid paced manufacturing processes for semiconductors depend mostly on gas-based systems.
The clean efficiency of these gas-based systems is said to be one of the factors for a major impact on the semiconductor industries future development.
The gas cylinders are the backbone of these systems, which are not able to achieve clean efficiency unless the gas cylinders are able to supply clean gas.
The SUMI-FINE series is a clean gas cylinder taking advantage of unique technology for a polished inner surface, therefore dealing with moisture, particles and other issues in response to a wide range of customer needs.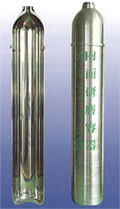 Internally polished container types
Material
(Symbol)
Internal
Volume(L)
Max Capacity Pressure
(MPa)
Outer Diameter
(mm)
Thickness
(mm)
Length
(mm)
Weight
(kg)
Manganese Steel
(M)
40.0
14.7
232.0
6.1
1,190
46.5
46.7
14.7
232.0
6.1
1,370
53.5
Chromium-Molybdenum Steel
(C)
40.0
19.6
232.0
6.3
1,190
46.5
40.0
14.7
232.0
5.5
1,175
41.0
50.0
19.6
232.0
6.3
1,460
56.5
46.7
14.7
232.0
5.5
1,350
47.0
Stainless Steel
(S) SUS304、316
46.7
5.88
232.0
6.3
1,370
53.5
Stainless Steel
40L
40.0
5.88
232.0
6.3
1,190
46.5
SUMI-FINE container polishing roughness
The roughness of the polishing is expressed as Rmax, which we make available for our customer's requests at 25μm, 12μm, 6μm and 1μm.
Samples of the container polishing taken from SEM Factory